The anemometry laboratory in Les Ulis was created and accredited during the first year of Aérométrologie's life, that is to say in 1994.
Since 2016, Aérométrologie has two accredited laboratories equipped with each one a unique blower with free jets allowing the calibration of anemometers by comparison with a laser velocimeter, or with a Pitot tube.
Since Octobre 2023, a new blower for low speeds is accredited (0,06 – 2,5 m.s-1 ), as well as arotating disk for the calibration of lasers (0,05 – 50 m.s-1 )
Our installations
The blower from Les Ulis is equipped with a vein at a useful diameter of 30 cm, when the blower from Pernes-Les-Fontaines reachs 40 cm.
In Les Ulis, a rotating drum allows to calibrate hot wire anemometers with a maximum diameter of 8 mm on a range of 0,06 until 2,5 m.s-1 with the lowest uncertainties.
Since October 2023, a new blower for low speeds is accredited in Pernes-Les-Fontaines for hot wire anemometers, with a range of 0,05 until 2 m.s-1
Again since October 2023, the lasers measuring an air speed can be calibrated from 0,05 until 50 m.s-1 with an optimal uncertainty of 0,002 m.s-1 + 3,9.10-3.V. The master is a rotating disk.
Anemometers
Our installations allow the calibration of :
Aérométrologie has the possibility to calibrate and measure from 0.06 to 40 m.s-1 (Les Ulis) or from 0.2 to 50 m.s-1 (Pernes-Les-Fontaines) for all kind of instruments: anemometers alone or in chain or multifunction devices (wired or wireless)
Multifunction
Aérométrologie is able to calibrate the multifunction suitcases: anemometer, air flow meter, hygrometer, manometer, thermometer, electric or temperature simulation or multimeter. By fixing a date, the calibration time will be 10 working days, and even less at 5 working days for an anemometer alone.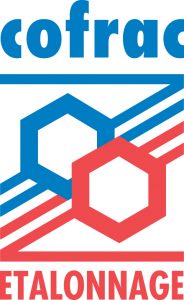 Accreditation:
Anemometry
N°2-1808 (0.06 to 40 m.s-1) in Les Ulis
N°2-6083 (0,05 to 50 m.s-1) in Pernes-Les-Fontaines
Scope is available on www.cofrac.fr 
Enregistrer
Non accredited in Pernes-Les-Fontaines: air speed until 55 m.s-1
On-site service possible.